OK, OK, I know I haven't been taking care of this blog very well since I created it, but I promise soon I will be making some necessary changes. Like adding a header and mixing up the themes. I don't have much time right now to make a solid post, but I will leave you all with something to at least get the gears turning.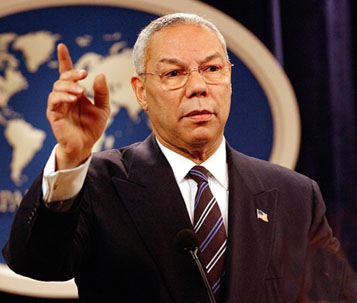 Colin Powell: has he been funding our illegal immigrant trade from the south? Recently he had stated that illegal immigrants, specifically Mexican immigrants, have worked in and around his home, and they've done good work! Powell says illegal immigrants provide a strong force in our current and past economy, and are fueling it.
Personally, I think immigrants should be able to get by in our country without having to slow the system down for the rest of us. If that means special programs to teach them English, or additional language sections on our instruction booklets, or what have you, let it be. I believe that once this nation gears up and starts moving more fluently without having such an economic distress, we will soon see that America is one big pie, and everyone from every nation, speaking every language, practicing every religion gets an equal share. This of course means born residents get a smaller share than they have now, but it means everyone gets and equal share to opportunities and offers. Try not to confuse that with communism, it's not the same idea.
Well guys I know it's not much, but I'd like more than anything your feedback or comments on immigration and Mr. Powell's statements.
Thank you,
Steve